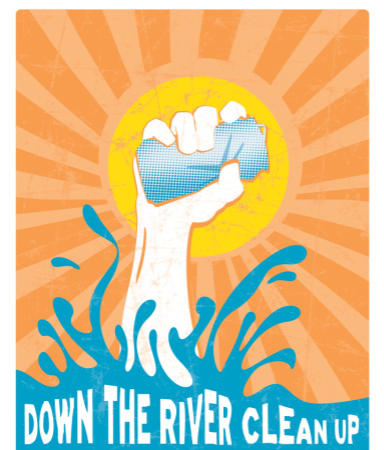 HOW CLEAN CAN A RIVER GET?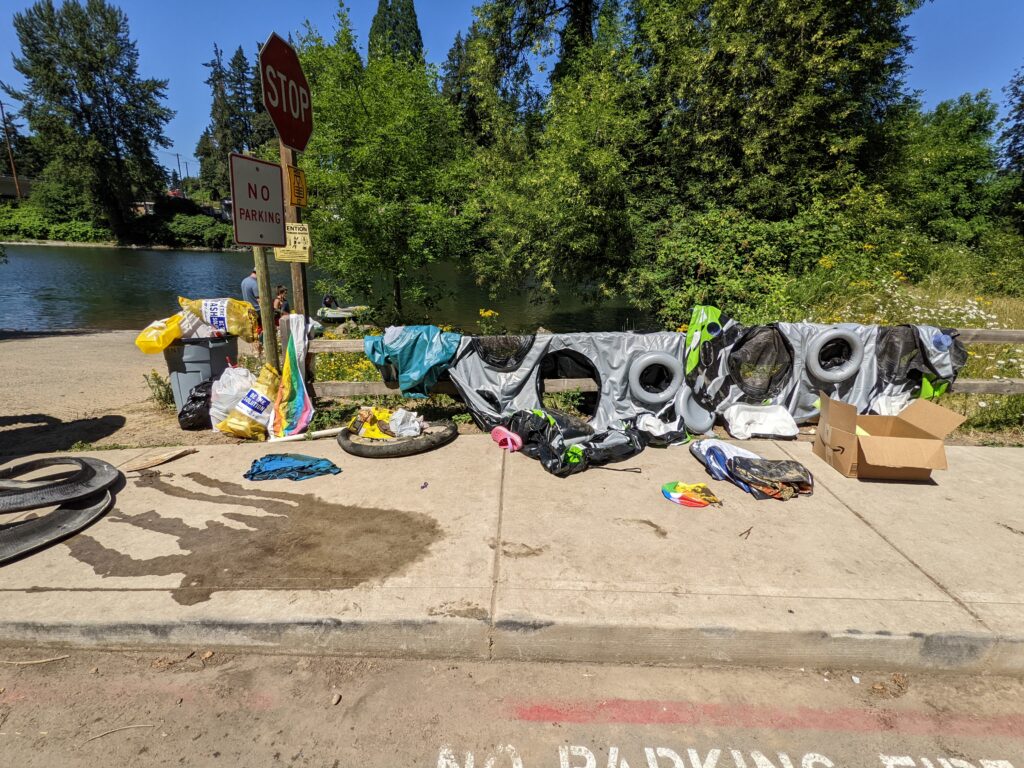 The 

Down the River Cleanup

will be held Sunday, September 11th, 2022. 
This annual trash sweep at the end of summer covers a 22 mile stretch of the Clackamas River from Estacada to the confluence with the Willamette River in Oregon City. 
The Clackamas Down the River Cleanup is the largest and longest-running on-water cleanup event of its kind in Oregon.
Each year an average of 200 volunteers rally together in rafts, kayaks, SCUBA gear, drift boats and any other safe vessel to scour the stream bed and banks for trash, collecting an average of 2 tons with over half recycled.
Since 2003, over 40 tons of garbage — well over the approximate weight of one gray whale — has been removed from the Clackamas River by more than 4,500 volunteers. We wrap up the day with a free BBQ for all volunteers, complete with music, a raffle, and a silent auction.
Or click on a section below or on the map to register
further details below the map
On-water Volunteering SECTIONS
On-Land Volunteering LOCATIONS
**Please read the 

VOLUNTEER DESCRIPTIONS

, event schedule, and safety precautions Carefully**
On-Water Volunteers are boaters & floaters, swimmers and divers, who comb the shallows, shorelines, sloughs, drift racks, and other areas that potentially collect river litter.
Roles include:
Boater/Floater – the most common and needed volunteer role, bring your own vessel (appropriate for the low flows of late summer – SUPs and sit on tops are great!) and with many hands (and paddles and boats) cleanup the Clackamas.
Safety Kayaker – paddle with a group you know or with other volunteers, and provide back-up and additional eyes on the river. Kayaks can also be great for getting trash stuck in hard to get places on the river.
SCUBA diver – there are still treasures (piles of cans, other things) at the bottom of deep pools. Your skills are greatly needed. Please be certified and bring all of your own equipment!
Snorkel/freediving – all of the above, and free divers are more nimble in the shallows/shoals area. Be familiar with river swimming and use all safety precautions.
Garbage Scow – you know what this means: you have a boat (drift boat, raft, big canoe) that can hold large irregular items (like pieces of docks, appliances, old pieces of metal, etc.).
Participate as an individual or as a group. 
On-Land Volunteers are essential to a cleanup, and are stationed near the boat launch areas in each of the parks.  
Roles include:
Registration and outfitting – under a canopy tent and in the splendor of a park, check-in On-Water volunteers and outfit them with cleanup gear. Stations at McIver (lower), Barton, Carver, and Riverside
Rubbish and Recycling Sorter – be ready for what litter comes your way. Seperate, sort, and profile interesting river litter. Stations at McIver (lower), Barton, Carver, Riverside and Clackamette.
Cookout helper – to celebrate the cleanup, help prepare, cook and serve food at the Barton Pavilion.
Parking is included with Registration; we will send a printable PDF week of the event to place in your vehicle window (we will have extras at registration, too).
other nonprofits and agencies who want to table!
We welcome other conservation and education nonprofits who want to table at the event. We have plenty of room at the Barton pavilion (and event Headquarters) and ask only that you confirm by email to matt@welovecleanrivers.org and we can discuss timing and details . We are very flexible and grateful for your contribution to the event!
Please note that when you register, you have the option to choose one of the sections or parks for your volunteer role. The morning of the cleanup, you will go directly to the launch (put in) area or land based station for check-in.
For river volunteers, please make sure to arrange YOUR OWN SHUTTLE.
Parking is free at each of the parks for registered volunteers. Parking passes will be distributed via email the week prior to the event.
8:00 – 9:00 AM Volunteers check in at designated stations. Shuttles for paddlers should be completed by noon at the latest.
9:00 AM – 3:00 PM Down the River Cleanup! Take your time. Look for all the litter, and perhaps find a treasure.
3:00 PM – 5:00 PM Free COOKOUT at Barton Park for all registered volunteers.
Local food, beverages from local breweries, live music and a silent auction to support future Down the River Cleanup efforts.
*Depending on section you choose to float, total time may be more than 3 hours; be prepared to plan your shuttle and start accordingly.
Safety is of our utmost concern. We work hard to provide you with helpful info during the day of the event – however, this information is advisory only. There is an inherent risk in boating on a river and cleaning up debris, and you assume all risks.
On-river volunteers must absolutely be a confident class II+ boater and be equipped with your own boat, paddle(s), life vest, whistle, helmet, and cellphone. There may not be a garbage scow/driftboat while your group is on the water, plan to bring the best watercraft for hauling your collected trash out (bags will be provided for collection). And plan to work together, with other boats, and help as needed.
Please eat a hearty breakfast, bring lots of snacks, and a water bottle!
BBQ at Barton Park (music and food) will begin at 3PM.
Restrooms are available at all parks. We recommend that you use one before you head down the river.