19th Annual
Down The River Cleanup on the Amazing Clackamas River
In partnership with the Clackamas River Basin Council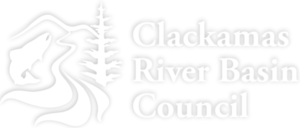 Do you happen to love this river as much as we do?
The 19th Annual Down the River Cleanup returns Sunday, September 12th, 2021 after being cancelled last year because of the wildfires. Put it on your calendar, and please consider being a sponsor or volunteer for the event!
This annual trash sweep at the end of summer covers a 20+ mile stretch of the Clackamas River from Estacada to the confluence with the Willamette River in Oregon City. The Down the River Cleanup is the largest and longest-running on-water cleanup event of its kind in Oregon.
Each year about 300 volunteers rally together in rafts, kayaks, and SCUBA gear to scour the stream bed and banks for trash, collecting an average of 2 tons – over half of which is recycled. Since 2003, over 40 tons of garbage — well over the approximate weight of one gray whale — has been removed from the Clackamas River by more than 4,500 volunteers. We wrap up the day with a free BBQ for all volunteers, complete with music, a raffle, and a silent auction.
We're hoping your organization will consider supporting this fun, educational, and community-driven effort to restore and clean our Clackamas River. There are several opportunities to support the event this year, including contributing an item to our silent auction or raffle, becoming an event sponsor , or providing an in-kind or cash donation. 
All support directly contributes to the work We Love Clean Rivers does to protect our rivers and the ongoing success of the Down the River Cleanup. 
Because of our strong partnerships with local and global businesses, we have been able to broaden engagement with river restoration activities, increase our diverse community's understanding of threats to watershed health, and provide unique opportunities for the community to give back to the incredible resources we use year-round. Support us as we celebrate our 19th year of turning restoration into recreation! Thank you for considering these opportunities!
FOR MORE INFORMATION
Please send us an email (info@welovecleanrivers.org) if you are interested in volunteering or sponsoring. We will get back to you quickly and hopefully can find a fit for you and/or your company at the 2021 Down the River Cleanup!
Join us in turning restoration into recreation!
Want to keep in touch? Make sure you're subscribed to our newsletter to hear about all our events and programs.
For more information about volunteer roles and event details, see information below.
**Please read the event schedule, safety precautions, and volunteer descriptions carefully as we've made several event changes in response to COVID-19.
Please note that when you register, you have the option to choose one of four parks for your volunteer role (listed below). The morning of the cleanup, you will go directly to the park you registered at for check-in.
Please make sure to arrange YOUR OWN TAKE-OUT SHUTTLE VEHICLE. Parking is free at each of the parks for volunteers. Parking passes will be distributed via email the week prior to the event.
8:00 AM – 12:00 PM

Volunteers check in for on land and boat launches at Milo McIver, Barton, Carver and Riverside parks.

3:00 PM – 5:00 PM

Free BBQ at Barton Park for all registered volunteers. Local food, beverages from local breweries, live music and a silent auction to support future Down the River Cleanup efforts.
Safety is of our utmost concern. We work hard to provide you with helpful info during the day of the event – however, this information is advisory only. There is an inherent risk in boating on a river and cleaning up debris, and you assume all risks.
On-river volunteers must absolutely be a confident class II+ boater and be equipped with your own boat, paddle(s), life vest, whistle, helmet, and cellphone. There may not be a garbage scow/driftboat while your group is on the water, plan to bring the best watercraft for hauling your collected trash out (bags will be provided for collection). 
Please eat a hearty breakfast, bring lots of snacks, and a water bottle!
This year will provide a return of our BBQ at Barton Park! Music and food will begin at 3PM.
Restrooms are available at all 5 parks. We recommend that you use one before you head down the river!
The Down The River Clean-Up is funded in part by Clackamas River Water Providers, Danner Boots, a grant from L.L. Bean and the American Canoe Association, City of Oregon City, and Clackamas County. Our many partners who make this event possible include SOLVE, WES, Oregon State Parks, Clackamas County Parks, Home Builders Association of Metro Portland, eNRG Kayaking and more.
Please consider supporting this fun, educational, and community-driven effort to restore and clean our Clackamas River by becoming a sponsor of this year's Down the River Cleanup! We have sponsor levels listed below, and are seeking item donations for our silent auction to be held at the volunteer BBQ. Thank you for your consideration!
For all inquiries, please contact Nicole Fredericks by email: nicole@welovecleanrivers.org. Thank you!
2020 Sponsor Levels
Clackamas Champion – $1,000+

– Logo on day of event signage (5 different parks), WLCR website, and event poster
– Buzz through WLCR social media channels
Clackamas Partner – $500
– Logo on WLCR website and event poster
– Buzz through WLCR social media channels
* Please note: sponsorship levels are are determined by the total sum of cash and/or in-kind contributions.
We Love Clean Rivers, Inc. is an Oregon non-profit and has been approved for tax-exempt status under section 501(c)3 of the Federal Tax Code. Some of your sponsorship may be tax-deductible.  Please consult with your tax professional concerning deductibility of your sponsorship.
On-Land Volunteer Positions
Registration Volunteer
On-Land Volunteer
Sorter Captain
Registration Volunteer
As a REGISTRATION VOLUNTEER you have an important role, and we truly thank you for volunteering!
REGISTRATION VOLUNTEERS ARE REQUIRED TO:
Volunteer during the morning of the event from 7:30am-12:00pm — THIS IS A MUST!
Be 16+ yrs of age; if under 16, you may help assist if accompanied by an adult from your household
Set up registration table area (right by boat ramp) of whichever park site you sign up for at 7:30am. You will be responsible for picking up the table, clipboards, pre-registration volunteer lists, liability waivers, pens, large A-frames with event schedule, details, maps, parking passes, safety info, etc from nearby storage. More information will come prior to the event.
Make sure all volunteers check in, sign liability waivers, and bags to clean up with (detailed day-of instructions will be provided with all the gear)
Greet all volunteers and answer any event questions they may have
And of course, feel free to stick around and clean up on land afterwards, be a Sorter Captain, or just have fun at the park!
On-Land Volunteer
Sorter Captain
On-Water Volunteer Positions
Boater/Floater Volunteer
Scuba Diver
Free Diver
Garbage Scow
Boater/Floater Volunteer
As a BOATER/FLOATER VOLUNTEER you have an important role, and we truly thank you for volunteering!
BOATER VOLUNTEERS ARE REQUIRED TO:
Bring your own non-motorized paddle craft (kayak, raft, tube, drift boat)
Be able and okay with putting collected trash onto/in your boat, or to carry a garbage collection bag along with you on your tube/kayak. We encourage groups to work together — so feel free to invite your household!
Have a PFD/life vest and all necessary gear to navigate river safely. Safety whistle highly recommended; kayakers should wear helmets
Be competent and comfortable at running class II+ (shallow) whitewater
Be able to set your own take-out/shuttle vehicle(s) in the A.M.
Check-in at your registered launch time at whichever park you pre-registered for (located at registration table by the boat ramp. Note: McIver boaters go to lower boat ramp). Here you sign your waiver, get trash sorting guidelines, safety tips, etc.
Must be putting-on river at your pre-registered launch time.
If you plan to bring other household members in your craft, or to tag along, please indicate how many when pre-registering online
If under 18, must be accompanied by an adult
Bring what you need! This is a full day on the river. We recommend work/garden GLOVES, sunscreen, fast drying/wicking cloths, river shoes/sandals, warm layers, raincoat, lots of snacks, water, cell phone, dry bag with supplies, and anything else you may need!
Lastly, have a blast, be safe, and feel free to enjoy the rest of your day in the park.
Scuba Diver
Free Diver
Garbage Scow