20th Anniversary of the Clackamas Down the River cleanup!
CELEBRATE ONE OF THE CLEANEST URBAN RIVERS IN THE WORLD​
We have turned restoration into recreation for 20 years.
Come join the fun.
Down the River Cleanup
is on Sunday, September 10th, 2023. 
This annual trash sweep at the end of summer covers a 22 mile stretch of the Clackamas River from Estacada to the confluence with the Willamette River in Oregon City.
This lower 22 mile stretch is now officially called the 'Clackamas Water Trail' (see below).
The Clackamas Down the River Cleanup is the largest and longest-running on-water cleanup event of its kind in Oregon.
Each year an average of 200 volunteers rally together in rafts, kayaks, SCUBA gear, drift boats and any other safe vessel to scour the stream bed and banks for trash, collecting an average of 2 tons with over half recycled.
Since 2003, over 40 tons of garbage — well over the approximate weight of one gray whale — has been removed from the Clackamas River by more than 4,500 volunteers. 
We wrap up the day with a free BBQ for all volunteers, complete with music, a raffle, and a silent auction.
Event Schedule
Sunday, September 10 – weekend after Labor Day
8am: Core volunteers arrive
10am-2pm: Down the River Cleanup – paddlers on the water!
11am – 2pm: Divers clean up the Barton Pool
2-5pm: Barbecue, music, on-the-water demonstrations and family friendly swimming. 
Registered paddlers receive:
Free park entry and parking
Cleanup supplies
On the water support and safety
Return shuttle for you and your gear from Carver to Barton
Complimentary barbecue meal at Barton Park. 
Automatic Raffle entry (and chance to win the ultimate prize).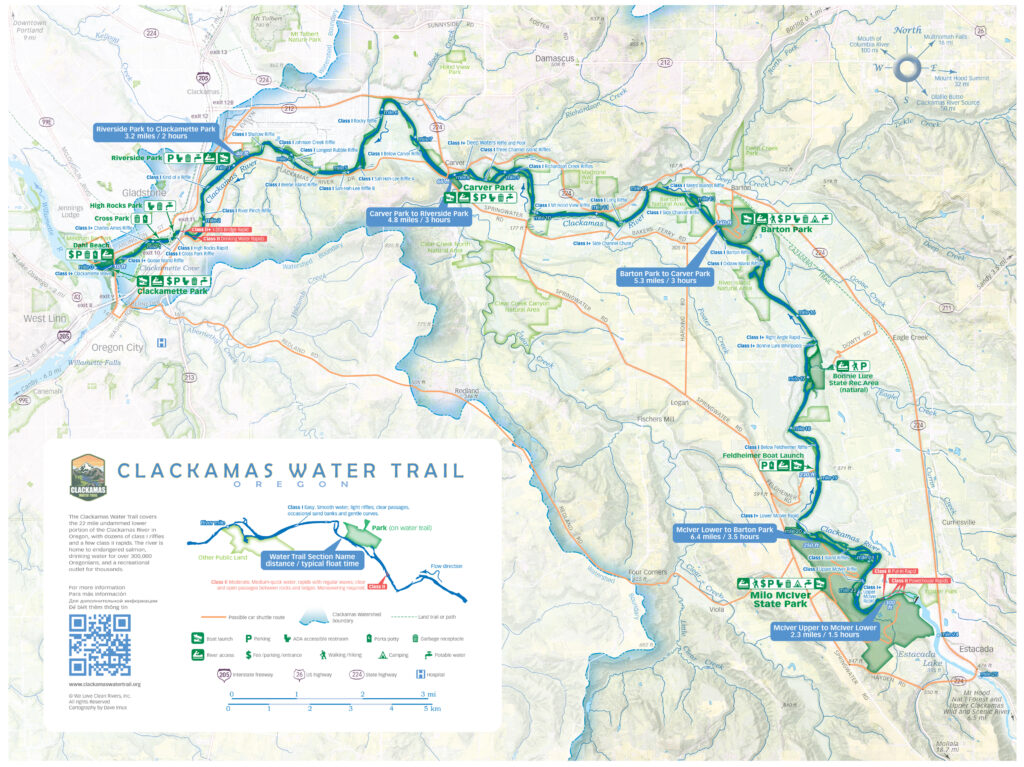 2023 Down the River Cleanup


registration
Please fill out the form below and donate* whatever amount you see fit (a suggested amount is $20 per person). 
We are very grateful for all of the volunteer contributions made to keeping the Clackamas one of the cleanest urban rivers in America!
Note: Event sponsors pay for the Down the River Cleanup costs and also support the Jr. River Ambassadors. All event registration donations go directly to Jr. River Ambassadors. Thank you!!!
We require two signed waivers – one from SOLVE, and another from We Love Clean RIvers. 
Please read carefully (each are one page) and sign.
We are currently setting this up for 2023. STAY TUNED.
Thank you 2022 Sponsors & Partners