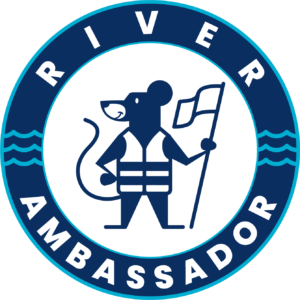 RIVER AMBASSADORS PROMOTE STEWARDSHIP AND LOW-IMPACT RECREATION ON THE

The River Ambassadors initiative sprung out of a need to better connect river users with stewardship, recreation, and safety information while visiting the very popular Clackamas River, with the ultimate goals to:
Improve visitor experiences

Communicate river conditions and hazards
Reduce river congestion
Encourage river stewardship and safety
Connect visitors to the abundance of recreation services in the Clackamas River region
Monitor and collect data for river conservation
Background
We  Love Clean Rivers have led two years of pilot programming (summers of 2020 and 2021) largely following the 'tabling model', whereby volunteers set up and staffed a table and tent at launch points along the lower Clackamas River. They could then interact with passers by, and communicate through signage (a river conditions board) and direct engagement. 
While we could tell the stations had direct impacts (connecting users with trash bags and life jackets being two recurring themes), of more value and interest to volunteers was to provide ongoing DIY cleanups, develop wildlife and water quality monitoring, and promote stewardship through direct engagement on the river. 
We saw that the great majority of river users during peak periods (when we targeted volunteers) avoid the table/tent and were instead focused on getting on or off the river. It made sense. It was also observed that if the signage could be cleaned up, the Stash the Trash and Life Jacket Loaner stations stocked, and a map with float times and section information nearby, users would have most of the information they need to leave no trace and float safely. 
So, for 2022 are now recruiting on and off the water volunteers as River Ambassadors, with a number of creative and fun ways to serve:
Paddle a section and clean it up on your way

– these DIY cleanups, initiated years ago by local volunteers, both directly reduce litter on the river AND model clean and fun stewardship. Ready to adopt a section and provide photo updates on your hauls? 

Help maintain the Clackamas Water Trail website.

The website was built to complement and support the River Ambassador messaging (i.e. be a 24 hour River Ambassador),  and provide authoritative information for both volunteers serving as RAs and for anyone wanting information about floating or boating the lower Clackamas. Looking for GIS experts, Cartographers, environmental educators, fishing folk and paddling experts, and anyone who wants to contribute to the most comprehensive website for floating and boating the lower Clackamas River. 

Help design, build, maintain, stock, and support River Ambassador kiosks

  in key locations near each launch along the lower Clackamas. These 'kiosks' (design TBD, and in concert with each land manager) will pull together the Stash the Trash bag and Life Jacket loaner stations, along with wayfinding maps and river conditions information (flow, temperature, hazards). Tabling events (one is planned for August 20th) will compliment the ongoing messaging at the kiosks. 
If you are interested in volunteering, please email Matt Taylor directly at matt@welovecleanrivers.org or text/call him at 541-921-0316.
River Ambassador Qualifications

River Ambassador Benefits