Recent mini-cleanups scoop up Flipflops, Floaties, and Flotsam, and see less trash overall
Recent mini-cleanups by River Ambassadors scooped up the usual subjects: flipflops, floaties, and flotsam. There also appears to be less trash overall, but more seems to come without steady stocking of Stash the Trash Bag stations and cleaning out recurring trash piles and gathering the usual subjects. 
Flotsam (French origin, meaning stuff that floats) on the Clack usually consists of cans, water bottles, and various food packaging. The flipflops are flotsam, and so are the floaties, and we are tracking their accummulation in the river. See the latest River Ambassador Mini-Cleanup tally: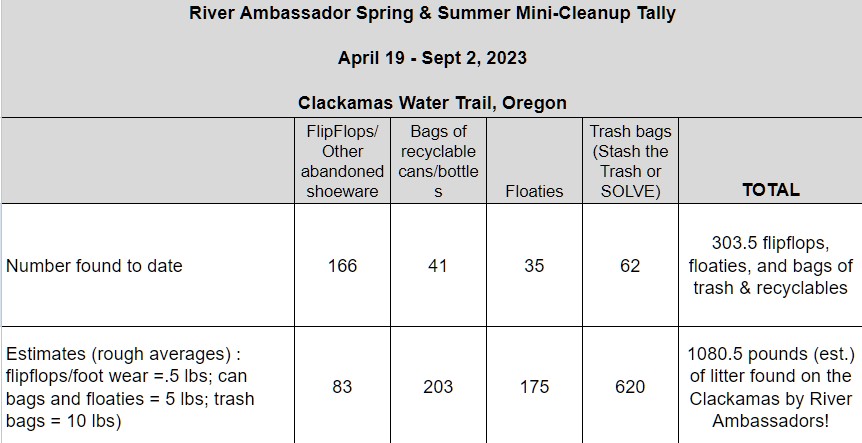 Some items the River Ambassadors find are too big, and flagged for later retrieval by a bigger boat (garbage scow). We have three prized items to be fetched for the upcoming Down the River Cleanup (there is still time to sign up!). See the burnt out stove in the photo album below, along with the two tires (one on shore and one underwater). 
Lastly, check out the new Down the River Cleanup map and see where various key cleanup features (notable trash, etc.) are on the river. 
Interested in becoming a River Ambassador and experiencing the thrill of the amazing Clackamas Water Trail and finding trash and treasures? Email Matt Taylor (matt@welovecleanrivers.org) and we can get started!
Check out some recent River Ambassador highlights